At home with a real ESPC buyer: Rani Bolam
Topics
Rani Bolam's flat in Roseburn in Edinburgh is full of subtle pops of colour from the pink sofa and fireplace in her living room to the blue tiles in her bathroom. But the home is barely recognisable from when she bought it seven years ago when it was damp with rotting floorboards. 
"I put offers in other flats and didn't get them," Rani explains. "I have always lived in tenements so that's what I was looking for in my property search. I saw the home on ESPC and it was a fixed price. It had no photos but said it was a tenement flat with two floors and an ensuite.  
"There was a family of five living there when I viewed it. It had rotten floorboards but the process of buying it was ok."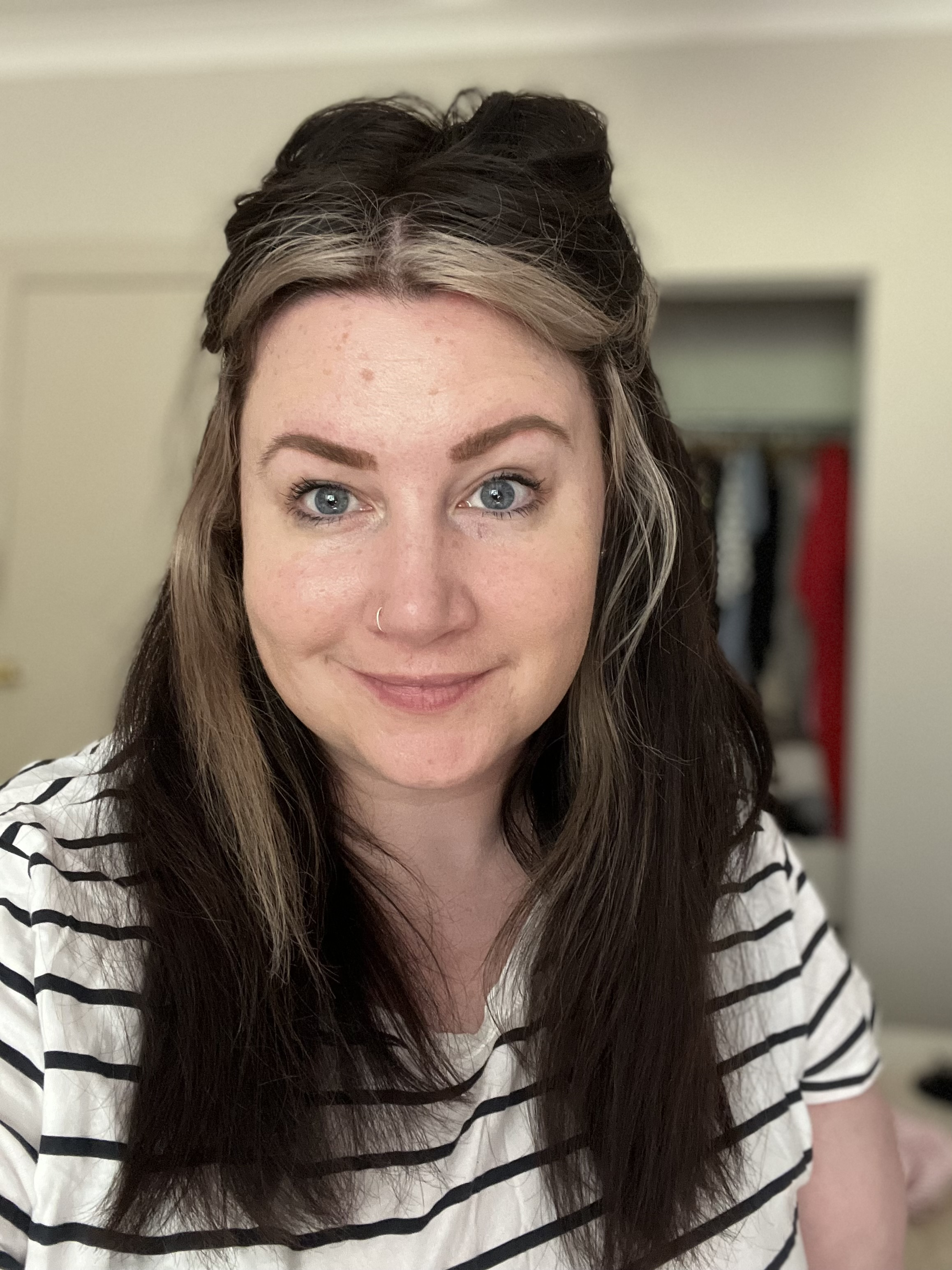 Rani, who has lived in Edinburgh for 15 years now, was 25 at the time of buying the two-bedroom property and had never renovated before but she moved house a lot as a child because her mum loves decorating properties.  
She says: "I took no time off work and did all the DIY at night. I'm a nurse so I did loads of extra shifts to pay for the work. We took on a bigger project than we meant to. It took a year to get carpets down so it was a long process but it was worth it." 
The flat is set over two floors. On the first floor, you enter through a hallway to a kitchen/living space and the main bathroom. Downstairs on the basement/garden level is a hallway, two bedrooms and an en suite shower room.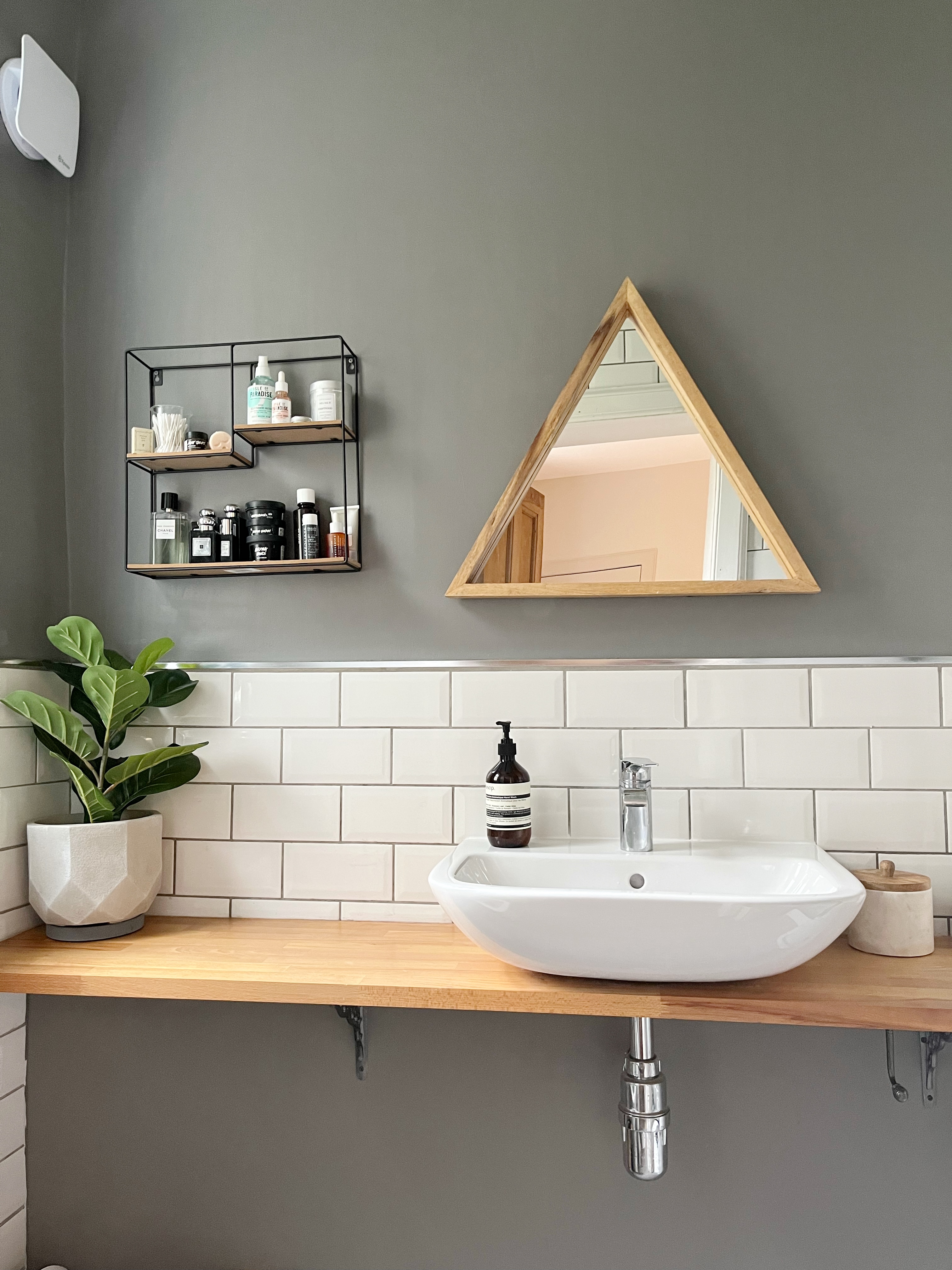 Rani began the renovation process by ripping out both bathrooms and doing a damp course with the £100,000 she had set aside for offers over. 
The en suite in the bedroom is now painted in Farrow & Ball's Molesbreath, a timeless shade of grey, with a vessel sink, and floating shelves. The rainfall shower and shower door with matte black edging were both found on Facebook Marketplace.  
The majority of the main bathroom was sourced from Gumtree or reused: the toilet; the sink and old Singer sewing table it sits on, and the bath.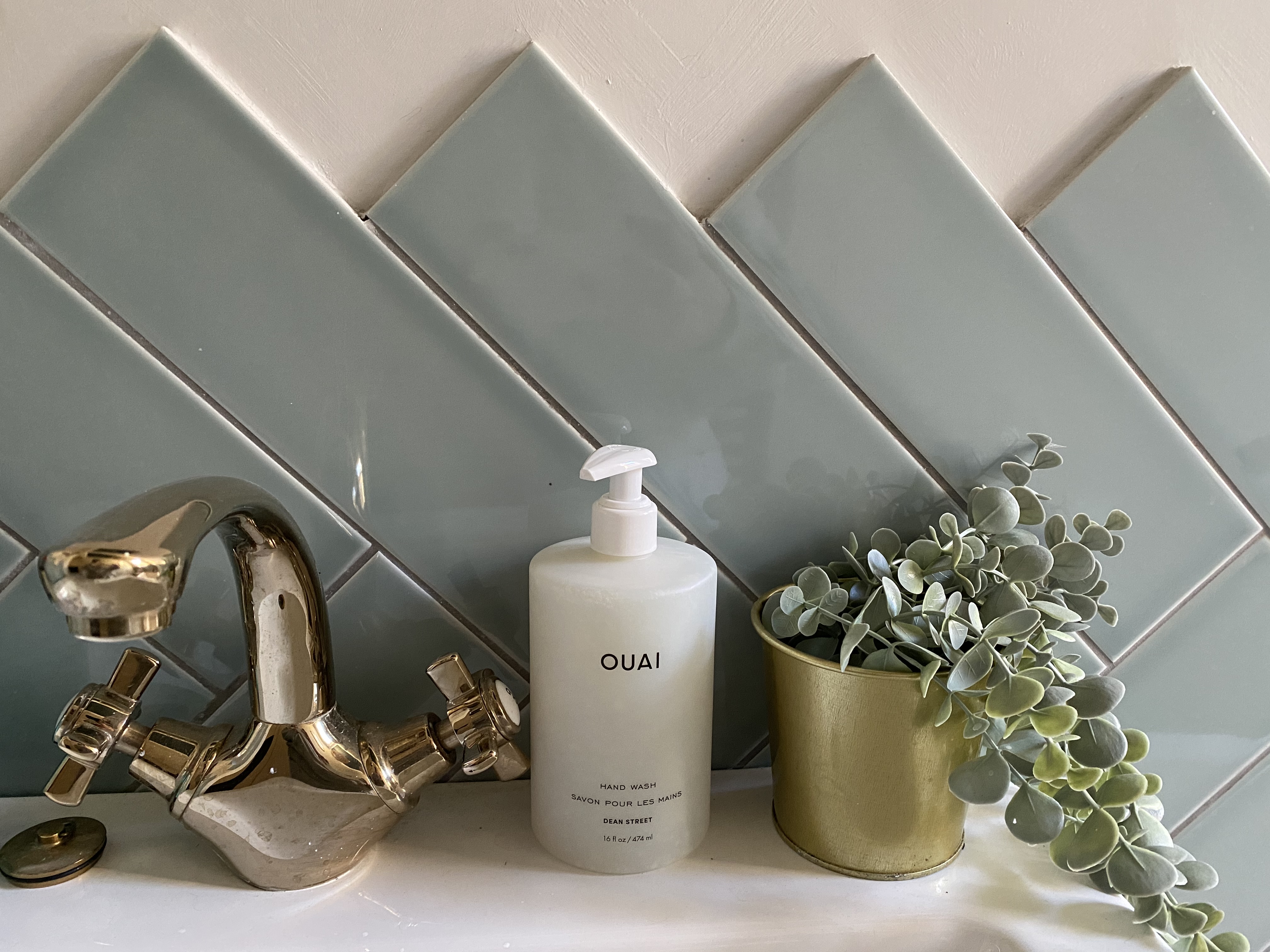 Rani has now redecorated all the rooms twice now – she initially put carpets down but it has now been stripped back to floorboards. She has also slowly changed all the doors over time – they were 1980s fire doors and she scoured Facebook Marketplace for reclaimed Victorian doors to replace them with.  
"The doors were recently dipped stripped and hung and totally changed the flat by adding a real warmth (not heat!) to the room," the 32-year-old explains. "I love seeing it come together." 
The living room is painted green and has a contrasting dusky pink fireplace, sofa and lightshades. The kitchen has white walls, marble counters and the cabinets are painted in the popular Farrow & Ball shade Hague Blue. The room also contains a shelf made from an old scaffolding board which was sanded and oiled by Move On Wood Recycling in Edinburgh.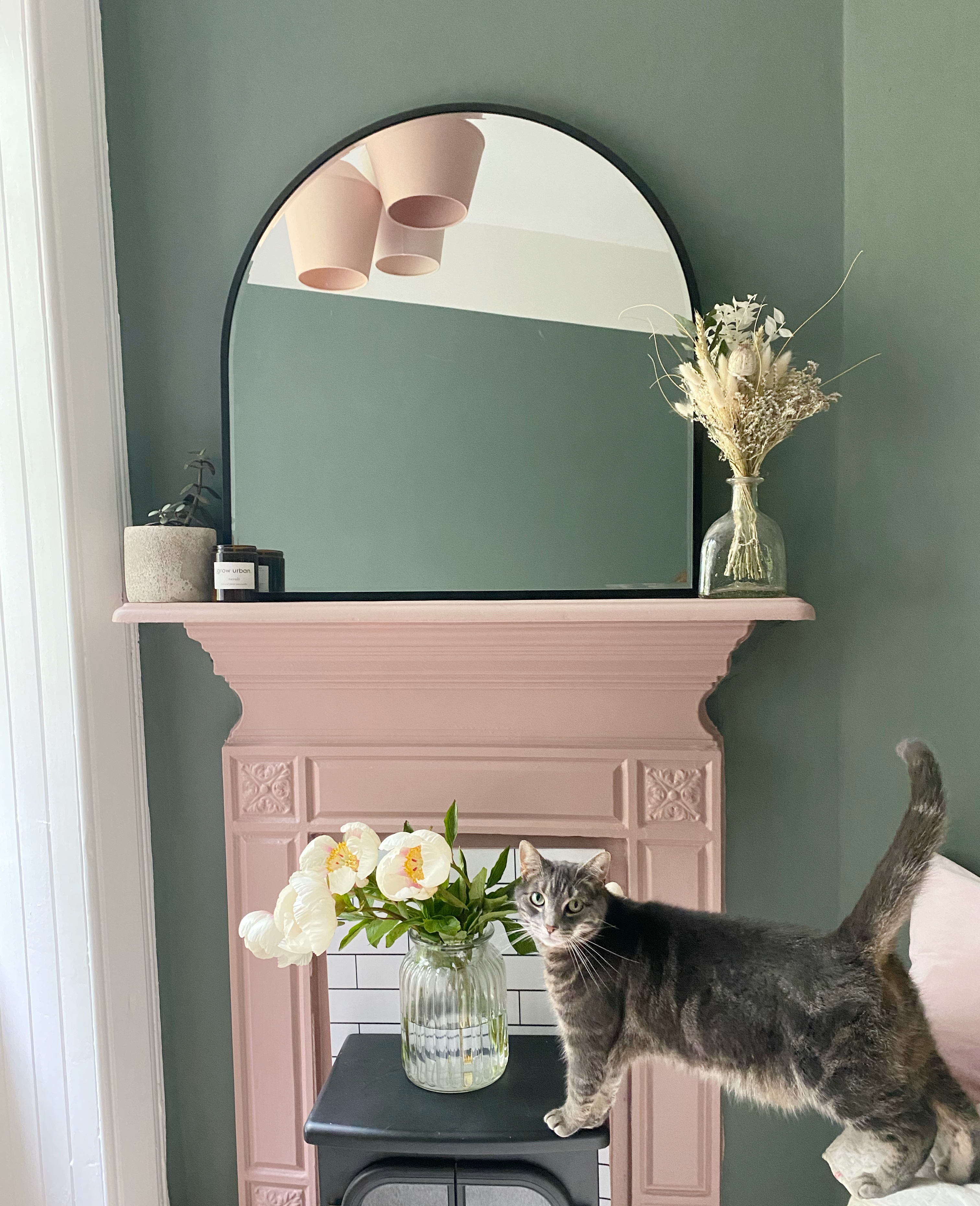 The hall has grey Scion leopard wallpaper with wood panelling below it and spaced-out pegs for jackets and bags, giving it a minimalist feel. To further contain clutter, Rani sourced a wooden box for her cat's litter and made a Harris Tweed foam topper for it, which her dog enjoys lying on. 
Rani's favourite room is her bedroom which is in the basement of the flat and looks out onto the garden. "It was dark when we moved in and now it is a really airy and cosy space," Rani says. 
The bedroom is painted in Farrow & Ball's light grey called Skimming Stone and has panelling painted in the same Molesbreath shade used in the en suite bathroom. The bedside tables were sourced from Gumtree and upcycled with a coat of paint and new brass handles. The pink bedspread and armchair add a pop of colour that contrasts with the grey.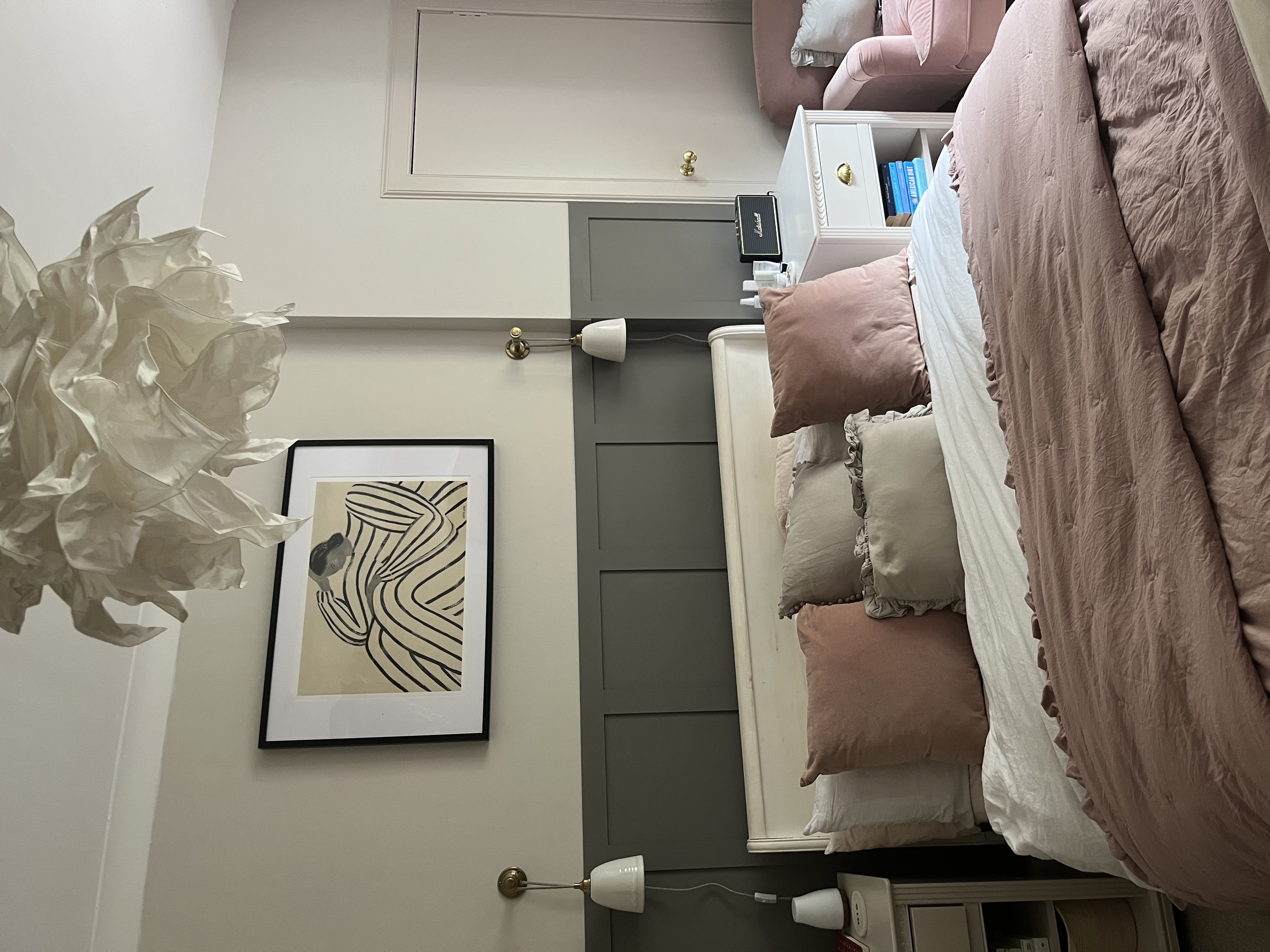 What was the hardest part of the renovation process? "My least favourite part was finding tradesmen who actually turn up," Rani says. "When we got the keys we thought we'd be done in three months. It was my first project and I had no knowledge of how long things take. You need to have somewhere to live while work is going on." 
Rani has some useful advice for first-time buyers: "The process is not finished until you have got the keys. There were a couple of delays and sellers were going to pull out. It's such heartache when that happens but we got through it. You have to factor in the unknown – I was being too optimistic at times."  
She used ESPC and Rightmove to search for her dream home and says buyers should be "open-minded about the area because your home is what you make it, not where it is". 
You can view more of Rani's interiors and design inspiration on Instagram @theedinburghtenement  
ESPC magazine
This article appeared in the September 2022 issue of the ESPC magazine. Find out more about the ESPC magazine and read the latest issue online.