Where do buyers come from?
Topics
Any text book on marketing or advertising will highlight the importance of knowing your customer.
And how does that apply to you?
The same rule applies to selling property.
A key question is where do buyers come from? If you are thinking of selling your home, you will wonder where your buyer is currently living?
Through using data from Registers of Scotland for 2012, ESPC has analysed where the buyers of properties in Edinburgh, East Lothian, Midlothian, West Lothian and Fife (the EH and KY postcode areas) come from. We have also split the data based on the value of the property.
If you have your property for sale in Edinburgh, East Lothian, Midlothian, West Lothian or Fife, this is very important information.
Visualised in pie charts
£0-£499,999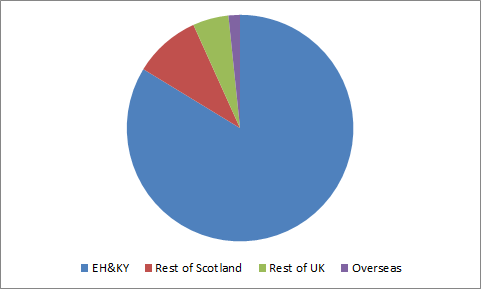 £500,000-£999,999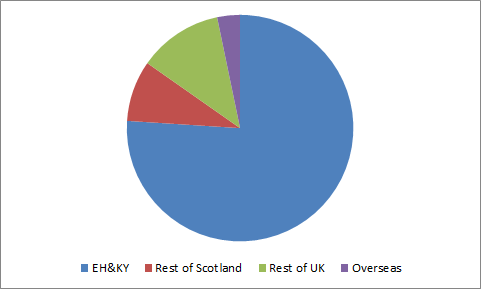 £1,000,000+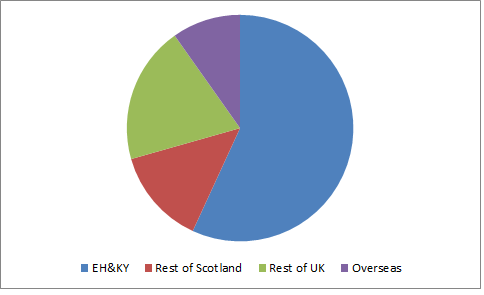 What does the data tell us?
Buyers are local.
Even at the top of the market where homes are on the market for over £1million, 6 out of 10 homes are bought by people already living in the area.  This increases to 7 in 10 for buyers coming from anywhere in Scotland. And if you have a property selling for under £500,000 this ratio is over 9 out of 10.
What does this all mean if you are thinking of selling your home?
Getting your local marketing right is very important as in the vast majority of cases your buyer will be local. ESPC offers the most effective local marketing package. Through our website, free weekly newspaper and showrooms (those run by ESPC and our member solicitor estate agents) we offer unrivalled exposure for the homes we advertise.
We further support these homes by making sure house hunters know to visit our address to find your address. Since the start of this year ESPC has been advertising online, in print, on TV, on radio and outdoors to draw house hunters to our website, newspaper and showrooms. As a result we have seen a significant increase in the number of people visiting our website and looking at properties.
So if you have an estate agent sitting across from you telling you that advertising your home in London or overseas is the most important part of marketing your house for sale then our suggestion would be to ask them to leave and stop wasting your precious time.
Plus, every home advertised with ESPC is also promoted through the network of SPCs that operate across Scotland via spcscotland.co.uk. So as well as great local marketing we have the rest of Scotland covered.
Our work on where ESPC comes on search engines provides us with reach beyond our borders. 30% of the traffic to espc.com comes from England, Wales and Northern Ireland. 5% is from outside the UK. Any country in green is one where espc.com was visited from (UK is in a slightly darker green owing to higher number of visits from the UK).
Marketing with ESPC works locally, nationally and internationally
If you want to get the marketing of your property right, the golden rule is to use an ESPC solicitor estate agent. Only they can offer you marketing with ESPC.