What is broken plan living?
Topics
Open plan has become the layout of choice in the 21st century. More and more people have sought to create bright and spacious open rooms in their homes, allowing for a greater flow of light and more social feel. However, a disadvantage of open-plan spaces is that they don't allow for much privacy or separation of the areas based on their different purposes.
Over the past two years, the concept of broken-plan living has therefore become increasingly popular in homes. A midpoint between open-plan and conventional separate rooms, broken plan living is intended to offer the best of both worlds. Light and space flows through but different areas are clearly marked, using a variety of different methods.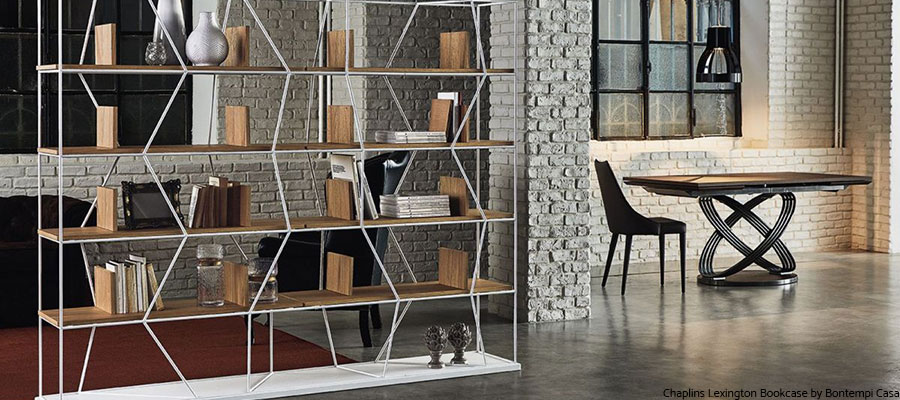 Offering a compromise between the light and space of open-plan living and the privacy of separate rooms, it seems the broken plan trend is set to become more and more popular in the future. Here we offer some ideas about how to zone the open spaces of your home and achieve the 'broken plan' look.
Furniture
Furniture is a great and hassle-free way to introduce broken-plan living into the open spaces of your home. Shelving and bookcases can be a particularly stylish and effective way of zoning different areas, and this doesn't involve implementing any structural changes in your home. You can also zone different areas in an open space using different colour schemes and flooring.
Ludovic AuBlanc, Creative Director of Chaplins Furniture, said: "Open plan living has many advantages. However, there often comes a time when you need to carve out zones of privacy within that space. One of our favourite tricks is to take a modern bookcase or shelving system and use it to partition a room. This year, we've noticed clients riffing on the idea of Crittal-style windows, using minimal black bookcases to frame a space."
Mezzanines
If you are looking to improve privacy and reduce noise for certain areas, you may want to consider structural changes. Mezzanines can be a particularly effective way of creating extra room in homes and act as a visual distinction between areas that serve different purposes.
Architect Jonathan Thomas from Dog + Foxx Design installed a mezzanine in his Edinburgh apartment. He said: "The main benefit of adding a mezzanine was flexibility. We wanted the new space to function as a home office, an informal lounge, a home-cinema and also a spare room when we had guests. We didn't have the space for these to be separate rooms, so the open-plan design had to be flexible enough to accommodate everything in one go.
"What is nice about the apartment now, is that you can have maybe three or four groups of people in separate zones but all sharing the same space… there is always a visual connection between those upstairs and those on the ground floor."
Walls, columns and steps
You could also consider the installation of lower partition walls or glass walls to form a separation and allow more privacy between the zones, without impacting the flow of light through the space. Columns and steps are other structural changes which can help to create the feel of different rooms without affecting the sociability of the open space.
Half walls
Half walls between different rooms is also an effective way of achieving the broken plan look. For those who have conventional segregated rooms in their homes, widening the door between the kitchen and dining room into an archway will help you create a more social space while the areas remain separate. Curtains can provide an additional degree of separation if required.
Premier Living
This article originally appeared in the Autumn/Winter 2019 edition of Premier Living, ESPC's guide to luxury homes and the latest interior trends in Edinburgh, the Lothians, Fife and the Borders. Get your copy now at our George Street Information Centre or your local ESPC agent.
Premier Living is now on Instagram – follow us to find out the latest interior trends and best home furniture and accessories for the season.
You may also be interested in... 
Space saving ideas for small homes
Spa bathrooms: how to create your own personal haven of relaxation
Top TV and film locations in Scotland