Trainspotting around Edinburgh
Topics
Could your home have been one of over fifty locations featured in T2: Trainspotting?
T2: Trainspotting is a film that demonstrates how Edinburgh has changed, 20 years on from the original 1996 film, directed by Danny Boyle and based on Irvine Welsh's cult novel. Newsagent John Menzies is no longer in prime position on Princes Street, Leith Walk now has a Starbucks, the old pubs of Leith have been given a hipster make-over and trams now run through the city centre.
While the first Trainspotting mostly used locations in Glasgow, with only one day in Edinburgh to film the famous Princes Street chase, for the sequel, Edinburgh was elevated to one of the main characters.  "Danny Boyle really wanted to locate it properly. He wanted it to be authentic and make use of current, contemporary Edinburgh. The trams are in it now, as he wanted to show how the city has changed," says Rosie Ellison, from Film Edinburgh, the office that assisted the film's location department in finding the perfect settings.
Film Edinburgh liaises closely with the City of Edinburgh Council when it comes to location shooting, as vehicles have to be cleared away, bins have to be moved, those living in the vicinity have to be notified and road closures put in place. "It's a lot of work to shoot a sequence, but many of these were cut from the final film, possibly because it was too long. But whether or not a property is on screen, the owner is still paid for their effort and time," says Rosie.
For those worried that film-making can cause too much disruption to a city, a film crew can actually come in and make the street look better than it had been before. When it came to the recent filming of Outlander series three, production took place in the Old Town's many closes. "The filmmakers have to get in there and turn the clock back, and have to hide modern day safety lights, for instance, and fire alarms, because these things weren't around in the 18th century," says Rosie. "They also remove all the chewing gum, so when the crew moves out of a location, whether it's contemporary or otherwise, you quite often find the streets are considerably cleaner than when they moved in."
For T2, a wide range of locations was used, including the Cav nightclub, Busy Bee social club in Saughton, a flat in Bruntsfield, and Spud's flat was in a Craigmillar tower block, offering a striking view over Edinburgh. Here are some of the other locations used.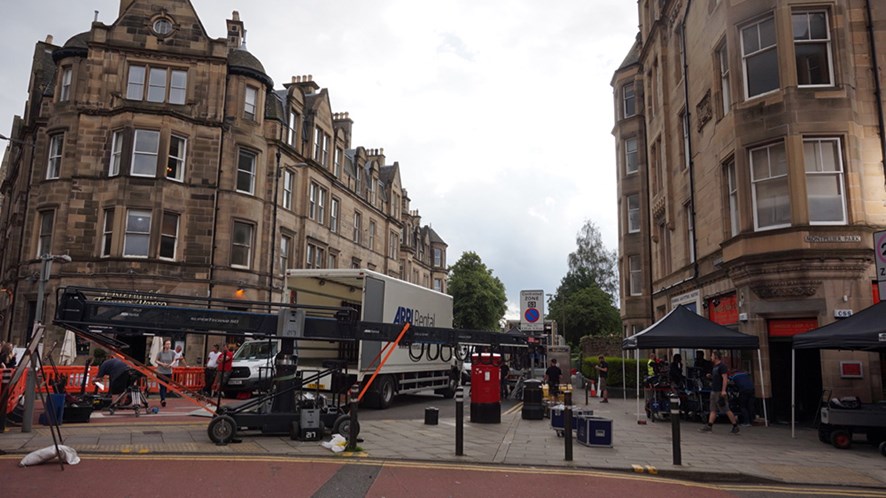 Princes Street scene
One of the scenes that didn't make it to the final film was where Spud and Renton recreate the city centre chase from the first film. They filmed along Princes Street at Urban Outfitters and down past Omni, Leith Street, and while this scene had been painstakingly storyboarded, ultimately it was cut from the final edit.
The New Town
For the attempted robbery in a grand New Town property, a private property was selected from Film Edinburgh's books which had stairs within the home, rather than connecting between flats.
The pub
"The pub, Port Sunshine, is a mix of four different locations, an exterior which was in Glasgow, Clydebank area, the cellar is in the Central Bar on Leith Walk, the main part of the interior is in a set, and there was a social club that was included in that as well. So it's a real mix," says Rosie.
Car park scene
This was filmed at Castle Terrace car park, just in the shadow of the Castle. "Danny Boyle was adamant that it had to be that car park," says Rosie.  "I think he liked the staircases – slightly Art Deco, and he was absolutely insistent it was this one. Renton runs out of the car park and falls off the roof of the car and that happens on King's Stable Road."
Wolf and Water
Wolf and Water, formerly on Commercial Street in Leith, was also used prominently. Rosie says: "The bar has shut down since filming, and it's such a shame as the film is such good promotion for it. Some of these scenes were filmed within the actual bar, and they also recreated some of the insides on their sets," says Rose.
The Old Town
There was a lovely chase sequence through the old town, through Grassmarket, Royal Mile, Parliament Square, Cowgate, Warriston Close, and they are all jumbled up," says Rosie. "The people of Edinburgh will be looking at this and 'going, that does not go from there to there, there is no connection', but this happens all the time in films."
Harvey Nichols brasserie
A key scene happens in the fourth floor cafe at Harvey Nichols cafe, where Renton and Veronica sit and have a chat. This scene was filmed throughout the night, and finished in time for Harvey Nichols to open up again first thing in the morning.
Leith Library
While time was spent filming in Leith Library, ultimately it is only seen in a flash in the beginning. The council and library staff worked hard to facilitate filming, which took place when the library was closed to the public.
Arthur's Seat
"There was a great running sequence on Arthur's Seat when Renton and Spud go for a run," says Rosie. "They filmed that through the day, on a mid-week day, and it's a beautiful sunny day and because the park is open to the public, as Renton and Spud are running, so are members of the public. It was really realistic."
If you would like to submit your home for consideration as a film location, contact Film Edinburgh on 0131 270 3280 or visit filmedinburgh.org