A look at what the property market may have in hold.
David Marshall, ESPC Business Analyst, offers his take on what the property market is looking like and what the future may have in store for house prices.
Optimisim
For much of the last few years, even the most optimistic of forecasters have been less than bullish in their outlook for the housing market.
Talk has generally been of a stagnant market facing a long road to recovery. 2013 has seen a notable change in attitudes however. So if you are looking at a property in Edinburgh or East Central Scotland then keep looking.
Whispers of green shoots of recovery have become louder and more frequent with a number of commentators offering a more positive prognosis.
Market change?
In April the Ernst & Young Item Club predicted a 7.5% increase in housing transactions during 2013 with prices projected to rise by 2.1% in 2014 and by 5% in 2015.
This was followed in July by Halifax announcing that house prices were rising at their highest annual rate for three years, and the Royal Institute of Chartered Surveyors projecting that house prices will rise by an average of 4% per annum over the next five years.
So what's fuelling this change in attitudes? Schemes such as Help to Buy and MI New Home have certainly played a part. Unemployment also hasn't risen as high as some had feared and the Bank of England has shown a willingness to keep the Bank Rate low.
Perhaps the most important factor though has been that, since early in 2012, we've seen a sustained upturn in buyer activity in the market.
At ESPC we've seen the number of homes selling rise since November 2011. If you look at house sales as a percentage of new instructions – a useful measure of supply relative to demand – this figure has risen from a low of just 60.9% to 77.1% in the 12 months to July 2013.
As a result, sellers coming to the market today are enjoying far more success in finding buyers than has been the case for several years. 57% of homes put on the market in April this year were under offer inside 90 days. That's up from 40% in April last year and 36% in April 2011.
The future
Of course, the 64,000 dollar question is whether or not this improvement will be sustained in the months and years ahead.
Certainly there are reasons for optimism to be tempered. The number of homes being bought and sold is still well below peak levels and the UK economy isn't wholly out of the woods quite yet.
That said, the outlook is brighter than it has been for some time and it's heartening to see sales of smaller properties picking up as this will have a knock-on effect further up the property ladder.
We still feel it's unlikely that we'll see a substantial rise in house prices in the next 12 to 18 months but the number of homes selling should continue to inch upwards which can only be good news for the long term health of the market.
Resources
To keep up-to-date with the latest in the local property market visit ESPC's News section where you will find House Price Reports by Dave amongst other useful blog posts.
Listen to David's latest House Price Report Podcast below
About the author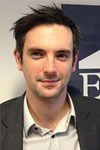 David Marshall is based in ESPC's Edinburgh offices on George Street.
If you have a question about the property, send it to David by writing on our ESPC Facebook Page or tweet us @espc