5 minutes - 5 questions
Topics
with ESPC Chief Executive Malcolm Cannon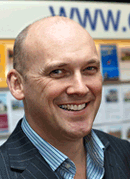 What does your day-to-day routine involve?
I live in Stockbridge so every morning I enjoy a lovely 15 minute stroll over the Dean Bridge to our offices in George Street. Much of the day is taken up with Member Firms and companies involved in the property business. Internal meetings with our great ESPC team makes up the remainder. Then, more often than not, I'm off to a rehearsal. You see, my midlife crisis has not been a motorbike but musical theatre! I was just in the Scottish Premiere of a Kander & Ebb musical, Curtains. It was on at The Lyceum in mid-May 2012.
What do you find special about Edinburgh?
Its beauty is breath-taking. The variety of buildings, the cosmopolitan atmosphere and how regal it looks either in rain or, unusually, sunshine! I also love the fact I can walk everywhere. Two of the reasons I hate the tram-works - they spoil the views and they spoil walking!
Where do you go to get away from it all?
Ardnamurchan on the west coast of Scotland is a favourite spot. I've holidayed there every year since I was born. Luckily, my other half, Jane, also enjoys the quiet so I get across there for long weekends or the occasional week. No e-mail, no mobile phone signal, no shops and single-track roads. Idyllic!
What would be your dream house?
Well, apart from the one in Ardnamurchan, probably a beautiful town-house on Ann Street. The splendour of the high ceilings, the beauty of the architecture and the peace and quiet despite being 10 minutes from Edinburgh's West End makes for a perfect mix.
Which 3 people, alive or dead, would you invite to dinner there?
Elvis is my hero so he could come and sing for us at dinner! It's been said before but Stephen Fry would be highly entertaining. Finally, Grace Kelly to sit opposite me so I could stare! And if she was not available, Sharon Stone would do.