Going more mobile with ESPC
Topics
Smartphones and tablets are being used by more and more house hunters to find their dream property. So ESPC has a plan in place to continue to be the place house hunters in Edinburgh, Lothians and Fife look first.
In 2012, the number of people visiting www.espc.com/tablet (our current mobile website) increased by 97%. For the last quarter of the year the increase was over 153%. Plus website analytics tell us that 20% of the visits to our desktop website (www.espc.com) were from a tablet or smartphone.
Conclusions
The conclusion we reached in mid-2012 was that we had to enhance the experience of visitors to espc.com via a tablet or a smart phone. For example, on our current mobile website there is no option to save a property search, login to your My ESPC Account or set up an email matching. These are all important parts of espc.com as thousands of users take advantage of these tools through the desktop site.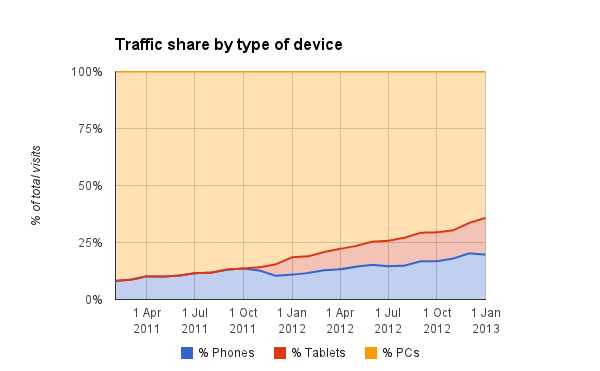 Our next decision was what approach did ESPC adopt. The choice was to develop 'apps' for each type of phone (iPhone; Android; Windows; Blackberry) or create something that would work irrespective of the device being used.
We have opted to go down this second route and create what those in the know call a "responsive website". Part of the decision was based on the high level of cost and resource involved in creating and maintaining an app for each phone and tablet type. However, the main motivation was that this approach enables as to deliver a truly consistent experience for site visitors. A house hunter can type house for sale in Edinburgh (or any area with price information or number of bedrooms needed) into our search box and access the same great property search tool.
Our website
A responsive website is one that identifies what type of device you are using, how big the screen is and arranges all the content of the page so that it works on that device. For example 2 sections of a website might be next to each other horizontally on an iPad but on an HTC mobile phone appear vertically.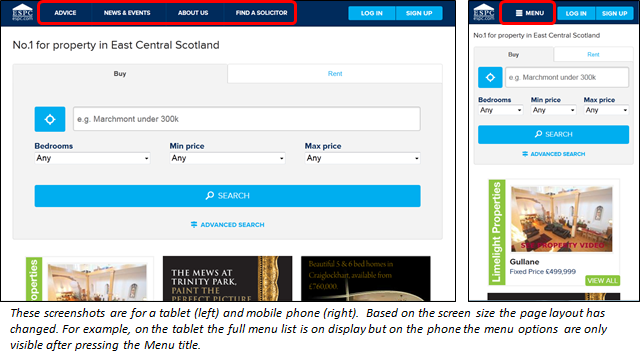 Our aim
Our aim is to ensure users have a consistent experience however they access espc.com. The mantra is very simple. If it is something you can do on espc.com via  PC we want you to be able to do the same thing on a mobile device. This is why on our mobile website you can:
Login to your My ESPC account (or create one if you need to).
Use all the advanced filtering options (that are available via the desktop site) on your phone or tablet to help you refine your property search.
Save a search and shortlist a property.
Create an email matching.
Access all the advice, information and house price data available on espc.com.
If you have any views on our website it would be great if you could take a moment to complete our feedback questionnaire.