ESPC Partners with British Heart Foundation
Topics
We are lending our high street presence to support the British Heart Foundation with their fundraising bag-athon.
Our show rooms in Edinburgh and Dunfermline are are becoming central points for donations where bags can be collected and dropped off. The photographs are from our recent launch in the Dunfermline showroom.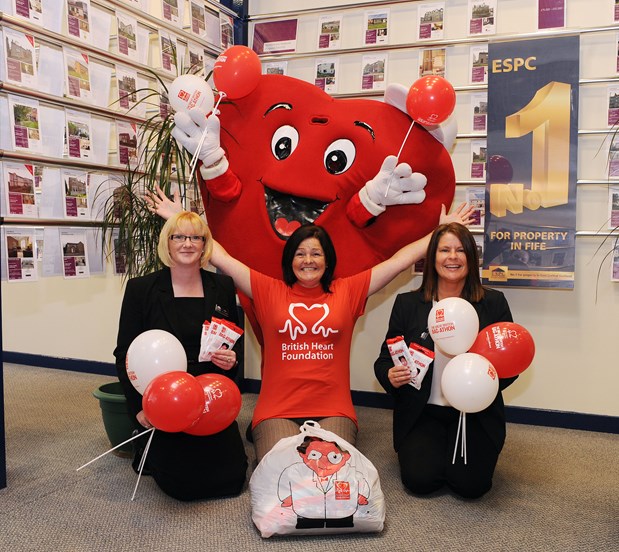 Through the Great British Bag-athon, BHF Scotland is urging local people to join in and bag up their unwanted clothes, books, homewares, toys, CDs and DVDs, to raise vital funds for the fight against heart disease.
Neil Harrison, Head of Marketing at ESPC said:
"We are delighted to work with BHF Scotland on this worthwhile cause.  As we head into Autumn, it is the perfect time to give your home a clear out and pass on any unwanted items.  At the same time by just filling a bag, you are already contributing to fighting coronary heart disease, still the biggest single killer among Scots today.
"Every seven minutes someone dies from a heart attack, so the more bags that are donated, the more money is raised for life-saving research, meaning more lives will be saved."
"If anyone is planning to move home, this is an ideal opportunity to declutter and help a good cause at the same time. Donation bags can be collected from our showrooms, filled up and returned to any of the BHF collection points (which includes the 2 ESPC showrooms) or you can arrange your own pick-up."

The Great British Bag-athon is BHF Scotland shops' biggest stock donation campaign. UK-wide the BHF aims to raise 1 million bags of unwanted things throughout September. Every bag filled is a bag full of life-saving research.
BHF Scotland Shops Area Manager in Edinburgh, Pauline Davie, said:
"We'd like to urge visitors to the ESPC showrooms to help us reach our target of 1 million bags by picking up a donation bag from George Street in Edinburgh, and New Row in Dunfermline, and donating their bags full of unwanted things. The bags can be returned to ESPC or to any BHF Scotland shop.
"Dunfermline is one of BHF Scotland's Heart Towns, where we are working with local organisations to help the community become more heart healthy and to raise vital funds. Coronary heart disease is Scotland's single biggest killer and every bag filled is a bag full of life-saving research. Every donation really makes a difference."
Showroom opening times are:
Edinburgh (85 George Street):
Mon-Fri 10:00-17:30;
Sat 09:00-17:00;
Sun 11:00-17:00
Dunfermline (15 New Row)

Mon-Fri 10:00-13.00 and 14.00-17:00