The startling cost of a third bedroom
Topics
Starting a family can be really expensive but when if you need to move house to get extra space needed for expanding your family the numbers can be startling! This article takes a look at what those figures are and what you can do to prepare.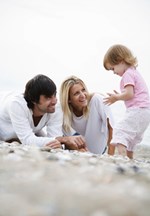 The cost of cots, prams, car seats, toys and clothes all quickly add up when you are having your first child. But the cost of having a second child can be frighteningly high if you need to move home to get that all important third bedroom. The average price difference between a two and three bedroom property in Edinburgh is a staggering £73,789.
Of course this difference depends on the area you are looking at. In Corstorphine the average two bed house is £194,015 whilst a three bed house is £248,443; a difference of £71,069 on average. In Liberton, in the South of the city, the difference is still a substantial £50,469.Slightly further away from the City Centre 3 bed houses in South Queensferry are on average £35,234 more, coming in at £173,867 compared with £138,633 for a 2 bed house.
When you take into account rising living costs - including childcare expenses - these figures can be very daunting. For many parents being in the catchment area for their preferred schools can make the move even more expensive. To avoid a significant financial jump for that additional bedroom it may be necessary to think about alternative areas which could bring in more affordable properties.
Whether it is staying in the same area or expanding your horizons, good financial planning will help alleviate the stress that this change to your family circumstances may cause. An independent financial adviser, such as those in ESPC's Money Management team, can offer you the advice you need to ensure that you are making the right financial decisions both for now and also in the future.
If you are ready to make that move up the property ladder (either with or without another child on the way), ESPC Money Management can access the whole of the mortgage market on your behalf and scour it looking for the mortgage deal that works best for you now and further down the line.
To speak with an adviser call 0845 111 1911 or email fsenquiries@espc.com.
The initial consultation with an adviser is obligation free. Thereafter, ESPC Money Management's charges for mortgage advice are usually £350 (£250 for first-time buyers). YOUR HOME MAY BE REPOSSESSED IF YOU DO NOT KEEP UP REPAYMENTS ON YOUR MORTGAGE.