20 facts about 20 years of CCLASP
Topics
ESPC is proud to support CCLASP (Children with Cancer and Leukaemia, Advice and Support for Parents) as our chosen charity for 2014/15.
20th anniversary
This year CCLASP are celebrating their 20th anniversary and to help you get to know a bit more about the great work they do to help families across Scotland, here's 20 facts and figures from the first 20 years of CCLASP.
About CCLASP
CCLASP was first set up in 1994 by Valerie Simpson and her husband Bill after their son was diagnosed with adult leukaemia.

CCLASP offers everything from a listening ear or a shoulder to cry on for families, to outings and holidays to help make their child smile.

Last year Valerie and Bill won Radio Forth's Local Hero Award for their work with CCLASP.

Most of CCLASP's staff and volunteers are parents or grandparents of children who have or have had cancer or leukaemia, meaning they can offer support and understanding that wouldn't be possible without first-hand experience.

Their drop-in centre gives parents, teenagers and sick children somewhere far enough from hospital to relax, but close enough to pop in and have a chat in a relaxing atmosphere.

CCLASP runs a telephone helpline allowing families to speak to another parent who understands just what they are going through and run Parent Support Groups all over Scotland.

CCLASP is currently looking to raise funds to relocate their drop-in centre so they can stay close to the hospital when Edinburgh's Sick Kids unit moves to Little France in 2017.

Each year since CCLASP launched, Valerie and Bill have helped make sure Santa visits the children at on Christmas Day.
They also provide clown entertainment on Wednesday – the day the children go into theatre – allowing them to see a smiling face at the window when they're in isolation.

They've helped make hundreds of kids' dreams come true, including visits to meet football heroes at Man Utd, Everton and Arsenal.
CCLASP in numbers
10,000 - Since launching CCLASP has helped almost 10,000 families across Scotland.
200,000 - the number of miles driven by Bill in CCLASP's bespoke minibus, helping take children to and from treatments.
43,200 - hours Bill and Valerie have devoted to CCLASP.
23,500 - Over the last two decades, CCLASP has given out over 23,500 toys and presents to children, thanks to donations from the likes of the Disney Store
40,000 - Each year around 2,000 people volunteer their time to help organise parties, picnics and other events. That means 40,000 people have given up their time to help CCLASP since it first launched in 1994.
600 - Over 600 people came to CCLASP's latest Summer Picnic, with 50 Porsches bringing the children to the event in a police escorted convoy!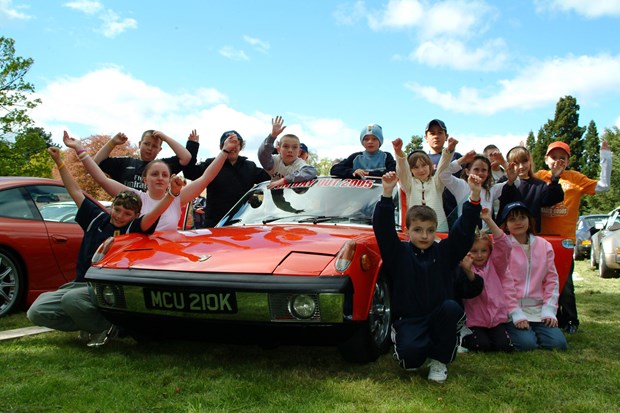 200 - Families that CCLASP has helped get to a dream holiday at Disneyland.
14 - Holiday homes and caravans across the country that CCLASP uses to allow families a chance to get away from it all.
10 - Each year CCLASP organises 10 huge fun events for children and their families, from Summer picnics to Christmas outings.
20 - To celebrate their 20th anniversary, this year CCLASP is asking everyone to Give Us 20 – whether it's 20 minutes of your salary, a 20 mile sponsored walk or 20 hours sat in a bath of beans. Anything to help raise the money to keep raising smiles on the faces of children and their families for the next 20 years.
We're delighted to be involved with such a great charity. Valerie and Bill are an inspiring couple and everyone at ESPC is looking forward to supporting them over the coming year.
You can find out more about CCLASP's Give Us 20 campaign here, or by getting in touch on 0131 467 7420.